Missions Accomplished
Arkansas Valley Conduit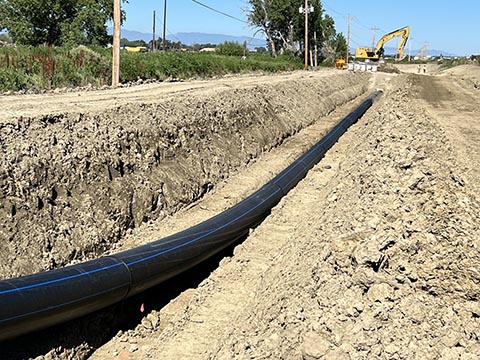 Kogovsek & Associates has served as the lead consultant in the effort to build the Arkansas Valley Conduit, the final element of the Fryingpan-Arkansas Project first authorized in 1962.
After more than 15 years of diligent work and several negotiated compromises, the 130-mile pipeline carrying clean water from Lake Pueblo east past Lamar is finally under construction. While the AVC avoided controversies like environmental opposition or right of way acquisition, it faced growing costs and requirements for a non-federal cost-sharing commitment.
Working with Colorado's congressional delegation, whose bipartisan support has been critical to moving forward, and with the Colorado Water Conservation Board, we made it through the challenges. The CWCB committed $120 million in funding availability through grants and loans in response to the cost-sharing demands. The Infrastructure Investment and Jobs Act provided an historical opportunity to move the project forward on an accelerated schedule.
To date, $160 million has been allocated from the infrastructure bill, along with annual appropriations.
Construction is now underway.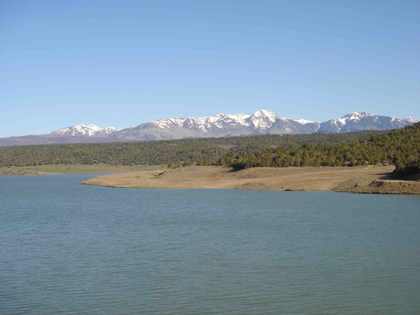 Courtesy Bob Wolff
Lake Nighthorse near Durango, Colorado
Animas-La Plata Project
Led a coalition of two Native American tribes and several water districts through a 15-year, high-profile legislative struggle to pass the Colorado Ute Indian Water Rights Settlement Act and follow-up amendments, which led to the construction of the Animas-La Plata Project,  the linchpin to the settlement of the Southern Ute and Ute Mountain Ute water rights claims. The two tribes, with the support of their non-tribal neighbors, fought for a firm water supply rather than a paper water right decreed after a long and expensive fight in court.

Hurdles that were cleared through a successful and dedicated lobbying effort included the creation of the San Juan Recovery Implementation Plan to overcome Endangered Species Act issues; numerous National Environmental Policy Act reviews and supplements; counter-lobbying efforts by national environmental organizations, and a significant price tag of more than $500 million. The project was recently completed and efforts to develop a non-federal recreational component are under way. Nearly $100 million also was appropriated to the Ute tribes in the settlement process, and they are using some of those funds to assist with water resource needs for non-Indian purposes as welll as their own.
Denver International Airport
Participated on a team, which included the City and County of Denver and the metropolitan business community, that obtained the initial federal funding for Denver International Airport.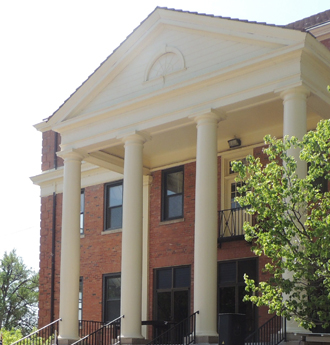 This is one of the primary buildings to be used in the Fort Lyon program to assist the state's homeless population.
Repurposing milestone at Fort Lyon
In the spring of 2013, Colorado Governor John Hickenlooper culminated a two-year collaborative effort to repurpose the historic Fort Lyon property in Las Animas. With key legislators by his side and 250 community leaders looking on, he signed legislation into law that creates a unique setting and program to assist our state's homeless population.

Kogovsek & Associates, Inc. is part of a local and state team that recognized the 500-acre site's potential to provide transitional housing and a full complement of wrap-around services to homeless men and women, with a strong emphasis on our veterans who have encountered economic and personal difficulties including addiction, mental illness and unemployment.  Our firm represents the Bent County Development Foundation.
Stagecoach Reservoir
Participated in the successful negotiation for reauthorization of the Small Projects Act, allowing the Stagecoach water and hydroelectric project near Steamboat Springs to be built after garnering the federal appropriations to construct it under a low-interest loan.

Cooperative Brunot Tribal Hunting Agreement
Interfaced with Southern Ute Indian Tribe and Colorado Division of Wildlife to develop a cooperative, legally binding agreement that allows tribal members to exercise their hunting rights in a nine-county area under the federal Brunot Agreement. It also provides for tribal and state wildlife officials to work together to manage wildlife resources.

Fountain Creek Flood Control Project
Obtained full federal appropriations for the Fountain Creek Flood Control Project in Pueblo, Colorado, and in subsequent years obtained Army Corps of Engineers funding to initiate a broader flood and erosion control study in the Fountain Creek watershed.

Great Sand Dunes
National Park

Courtesy National Park Service
Great Sand Dunes National Park and Preserve, 35 miles northeast of Alamosa, Colorado
Helped to guide legislation through the legislative process to designate the Great Sand Dunes National Park and the Baca Wildlife Refuge, including the appropriation of federal funds to secure the land for the refuge.
Tribal Tax Issue
Garnered federal forgiveness of significant Federal Unemployment Tax Act assessments against the two Colorado Ute tribes caused by misinterpretation of the applicability of FUTA to certain tribal enterprises, including tribal governments.
Yampa River Restoration Initiative
Persuaded Congress to appropriate $350,000 to begin an ecosystem restoration project on a section of the Upper Yampa River, where temporary diversion projects impacted the natural flow of the river and altered the streambed.
Rio Grande River Corridor Management
Served as the federal consultant in a successful legislative effort that provides protection of the Rio Grande River corridor between Alamosa, Colorado, and the New Mexico state line, employing a public/private partnership between water and agricultural interests and the Bureau of Land Management.
Ute Mountain Farm & Ranch Enterprise
Over a three-year period, obtained $15 million in federal appropriations for the Ute Mountain Ute Tribe to build infrastructure necessary to deliver Dolores Project water to tribal lands, which now produce award-winning corn through the Tribe's successful Farm & Ranch Enterprise.
Arkansas River Restoration Project
Through an Army Corps of Engineers Section 206 appropriation, helped to restore and revegetate a section of the Arkansas River between Pueblo Reservoir and its confluence with Fountain Creek, including a kayak park.
Protecting Family Farms
Led a coalition of water users in their goal to curb unreasonable attempts to reform reclamation law to the disadvantage of family farmers.
Utility Franchise
Directed a successful public affairs campaign to approve a utility franchise over municipalization of the utility, and helped to guide Utilicorp's philanthropic contributions to establish its commitment to the community.
Platoro Reservoir Local Management
Guided a bill to transfer the operation and management of the Platoro Reservoir from the Bureau of Reclamation to the Conejos Water Conservancy District.
Tribal Detention Center
Won an appropriations fight to provide funding for a new detention center on the Ute Mountain Ute Reservation, following lawsuits that determined existing facilities were antiquated and dangerous.
Quivira-Agriculture Cooperative Agreement
Built a coalition of water users, agribusiness, federal, state and local governments and mid-Kansas area farmers to cooperatively share and manage limited water resources between agriculture and the Quivira National Wildlife Refuge and develop, with a federal appropriation, engineering and design studies for efficient water delivery to both.
Water Rights Protection
Participated in a regional effort to defeat a proposal to sell Power Marketing Administrations to the highest private bidder, which would have intruded on water rights and existing marketing contracts throughout the western United States.
Pueblo Memorial Airport Contract
Drove a negotiated contract between the Department of Defense and the City of Pueblo that provided funding to Pueblo Memorial Airport for impacts on its infrastructure and services required for military training uses of the airport. 
Lake Capote Improvement
Directed the effort to obtain appropriations for the Southern Ute Indian Tribe for repair of a failing dam and improvement of Lake Capote, a small storage and recreational reservoir.
Radon Study
Worked with a coalition of water users to delay Environmental Protection Agency implementation of a proposed standard for radon in drinking water by mandating a multimedia study of all sources of radon in indoor air.   
Wet Mountain Valley
Successfully deterred Air Force plans for certain low-level flight training exercises over the Wet Mountain Valley of Colorado.
USDA Water Conservation Grant
Helped to guide the successful application for a $2 million USDA water conservation grant for the Central Colorado Water Conservancy District for technology system improvements to enhance efficiencies in water management.